Saying YES to NAMA PRABHU!
2022
    |  HH Romapada Swami  |  
Annual Japa Retreat – Houston, Texas
July 29, 2022 (FRI) – July 31, 2022 (SUN)
Regular Registration (after June 16th, 2022): 6-12 yrs: $40/per person | 13+ yrs: $75/per person
⇒ SAYING YES TO NAMA PRABHU ⇐
Come and immerse yourself in a weekend of guided mantra meditation, live music and prayers.
The Japa Retreat is an immersive festival of the spirit where HH Romapada Swami, who have been avidly practicing this Bhakti tradition for the past 4 decades, lead us in finding our own connection to God.
This is an in-person Japa Retreat (being held at ISKCON of Houston – 1320 West 34th Street, Houston, TX 77018) and limited space is available so please register early.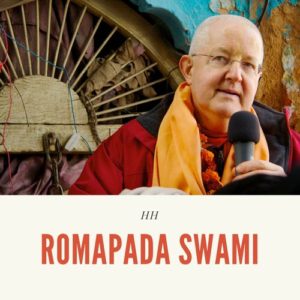 HH Romapada Swami is a senior disciple of Srila Prabhupada, a Vedic scholar, and an initiating spiritual master in the International Society for Krishna Consciousness (ISKCON). Having been an avid practitioner of this ancient bhakthi tradition for more than four decades, the Swami draws on life experiences to guide all of those seeking a spiritual path by hosting these retreats and creating programs to help inspire and transform the lives of thousands.
Speakers: TBA
Kirtan by: TBA
Because we wanted something that would encourage us to delve deeper into our spiritual practice, we have planned and coordinated workshops, music, meals, and events to inspire, nourish, and entertain.
---
♥Saying YES to NAMA PRABHU♥
---
(Note that all these activities require registration)
Houston Japa Retreat 2022 Schedule
TBA
For more information or any questions about the retreat please email us at: japahouston@iskconhouston.org
Please register (one registration per family) below.
NOTE: Upon registration, payment completion – please check your inbox (and SPAM folder) for your confirmation email.